In this tutorial, I will show you a fun way to change your voice to many other voices and talk as different people when using Bandicam. With this, you will be able to record videos with the voice of a sweet girl, a grandma, Darth Vader or anyone you want.
In case you wonder, we will connect AV Voice Changer Software Diamond 9.5 (VCSD9.5) with Bandicam, and then record your webcam, computer screen or anything into an amazing video.
What is Bandicam?
According to its website, Bandicam is the best recording software for screen, game and webcam capture. So you see, it has three functions and they are very useful, especially when Bandicam is a free software. The free version is available for 10 minutes each time you record. 
AV Voice Changer Software Diamond 9.5
This is currently the newest and the best version of the voice changer series from Audio4fun. Furthermore, according to many pro users, they also agree that this software can be considered as the best in the market. What can you do with this voice changer?
- Change your voice to any voice, mimic other voices.
- Talk in real time.
- Integrated voice recorder to help you record in normal voice and morphed voices.
- Audio editor/converter/file morpher to help you edit the audio files.
 Step 1: Voice Changer Software Settings
- On main panel, choose Preferences (1) menu to open VCS Preferences window.
- When VCS Preferences window appears, choose Virtual driver Mode radio button (2).
- Click OK button (3) to apply the new setting and close Preferences window.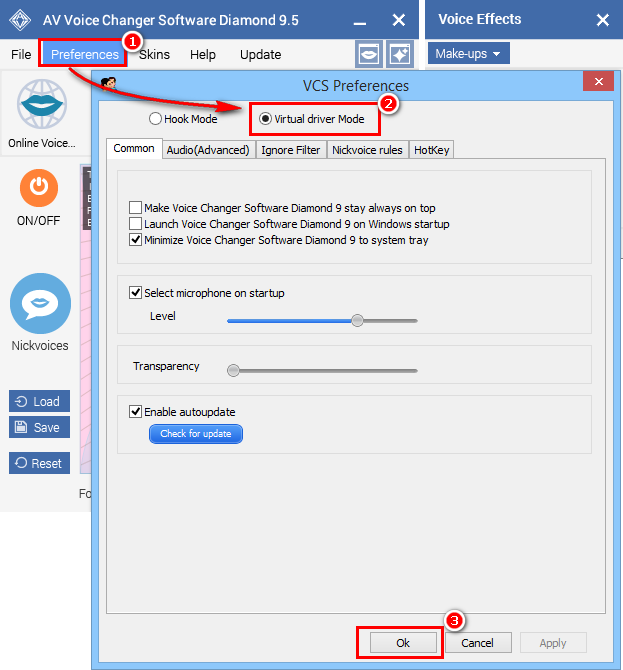 Step 2: Bandicam settings
- Run Bandicam
- Choose Advanced (1)
- In Advanced options, go to Others tab (2)
- Choose Video Recording Settings (3)
- When Recording settings window opens, select Microphone (Avsoft Virtual Audio Device) as the primary sound device (4).

Now morphing effects from VCSD 9.5 will be immediately applied when you are recording with Bandicam.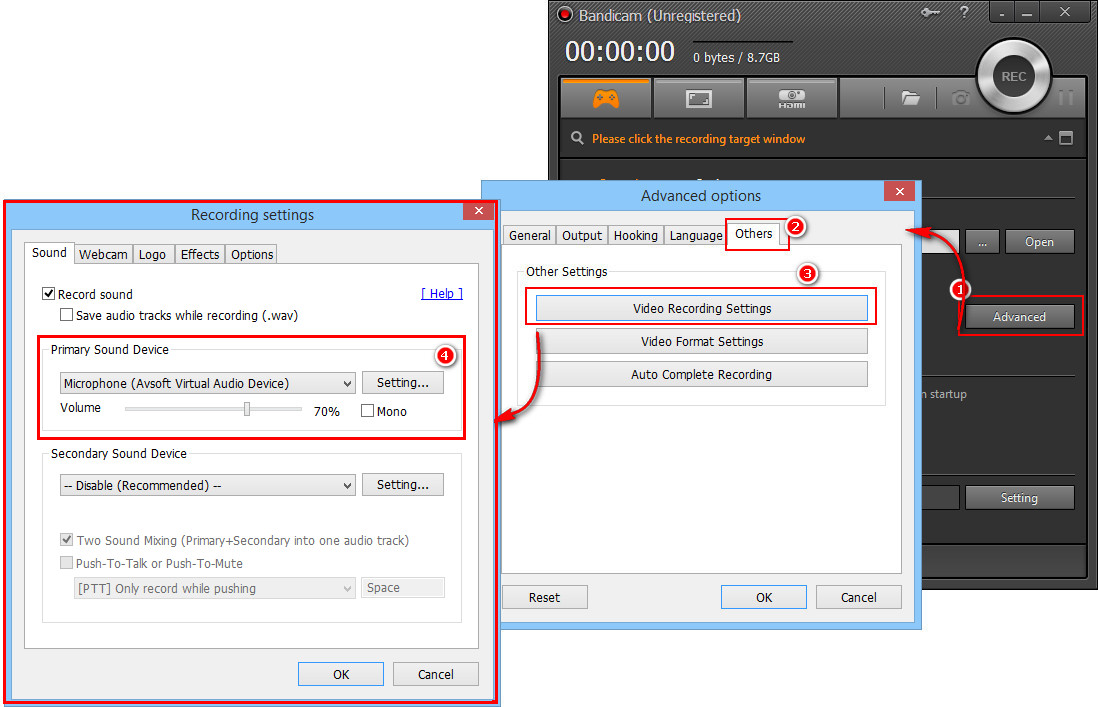 Step 3: Prepare your voice with voice changer
And now, time to change your voice in Voice Changer Software Diamond. Just change your voice and you are ready to rock!!!
How to change your voice, how to use voice changer?
There are two main ways to change your voice in AV Voice Changer Software Diamond 9.5:
- Using Nickvoice: the ready-to-use voice presets built in the software. You can change your voice in one click from male to female, female to male, or even animal voices.
- Using Voice Morpher: this is the best creative way to change your voice. You are in total control of the human voice's fundamentals. How to use this? Please visit this guide for more in-depth information: Use Voice Morpher Feature.
You can sound like chipmunks, Darth Vader, Morgan Freeman or anyone.
Step 4: Start recording Bandicam videos
After you have your favorite voice, open Bandicam to record a video. Whether it is screen, webcam, HDMI or game recording, you can always have fun with the voices and the best thing is that you can actually switch between voices very fast and easily.