Sometimes, talking to your pals using Curse voice chat needs a little more excitement to spice the game up. But what are you gonna do? I don't think singing a song or talking about some irrelevant stuff will have that much impact. How about using AV Voice Changer Software Diamond 9.5?
Change your voice to any voice in Curse chat, you can be Morgan Freeman, Barack Obama playing games, or you can be a mother of someone demanding his son to go home, or even some prank girl voice admiring your fellows to make the most fun in a game.
In this tutorial today, I will show you how to connect AV Voice Changer Software Diamond with Curse chat. Take out your creativity and fly with these wings into the sky of fun.
Curse chat
Curse chat is now integreated into Twitch app. You can merge two accounts from two websites and use it for the online chat.
Step 1: Change settings of voice changer
On main panel of AV Voice Changer Software Diamond:
- Click on Preferences (1)
- When VCS Preferences window appears, choose Virtual driver Mode (2)
- Click OK (3)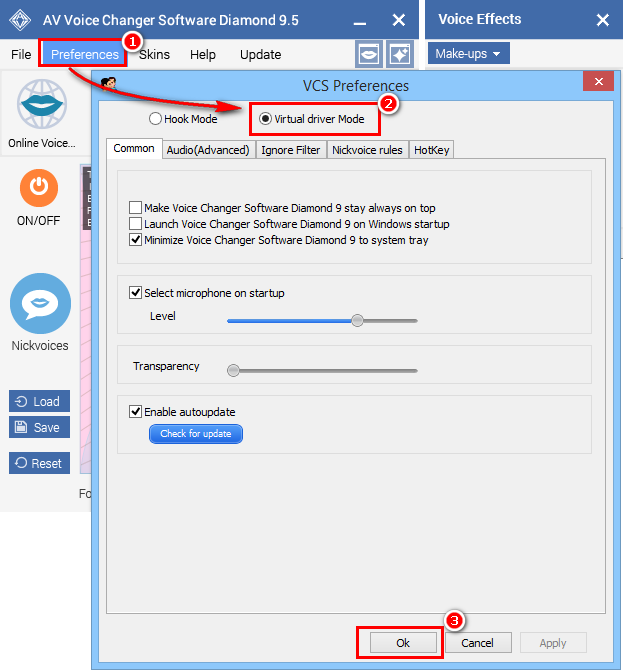 From now on, AV Voice Changer Software Diamond will focus solely on the software it is connected to. This mode will help users speak in the best voice quality for normal conversations as well as when they change their voice.
Step 2: Connect voice changer to Curse chat
 Now, we will connect the two software together.
- Open Curse
- Select Settings icon
In the new Fine-tune your mic and sound dialog box:
- Select Audio/Video tab (1)
- Under Microphone, choose your Device as Microphone (Avsoft Virtual Audio Device) (2)
- Click Done (3)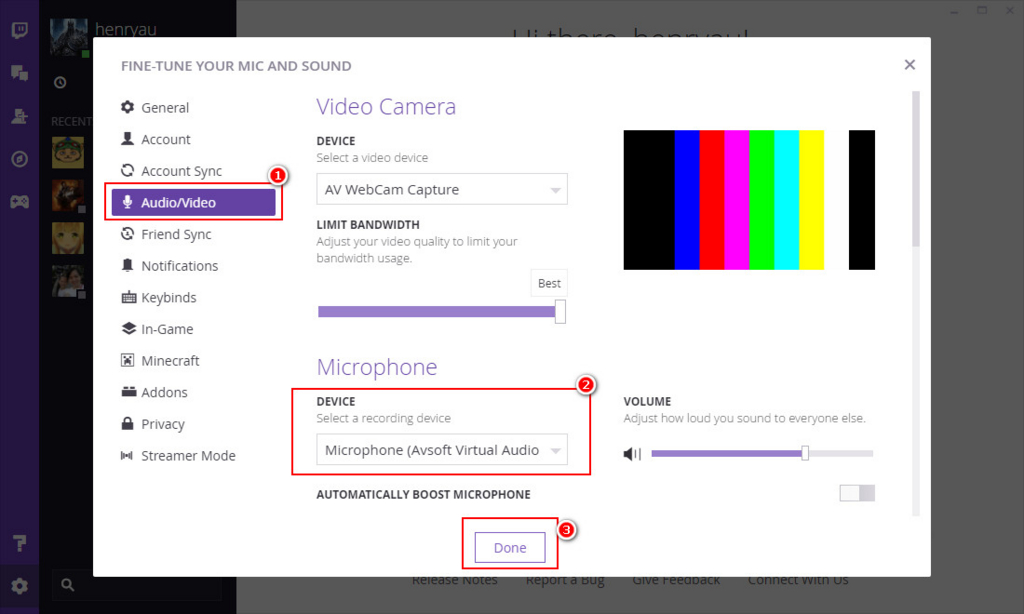 Step 3: Adjust AV Voice Changer Software Diamond 9.5
And now, are you ready for some fun? 
At this step, any changes in your voice will make it different, and when you talk, all of your friends will hear a new voice. So be careful, or your fellows will laugh till they can take it no more.
How to use voice changer? Very easy, just one click and you can change your voice to various voices:
You can change your voice from:
- Male to female
- Female to male
- Movie Maker: ghost, robot, etc.
- Non Human Voice: anime voices like dog, bird, bear, wolf, etc.
Moreover, you can download more free voices from Add-on Packages - Audio4fun Support Center with more updated packs.
And now, enjoy the new fun in the neighborhood, guys.