In this tutorial, you will be able to download a voice changer app to change your voice from male to female, change your voice to anything, even terminator, aka Arnold Schwarzenegger, Barack Obama, Batman, anyone. With this, you can make real time voice changing during voice call on smartphone, voip calls and even record your conversation.
You can do anything with your voice, from having fun with friends, fool strangers or make audio projects. Let's see a funny prank that has been done to a guy on Omegle.
Voice changer prank
- Stranger: Hi, how are you?
- You: All good. What about you? (in a sweet female voice using voice changer software)
- Stranger: Having a nice day. Your voice sounds so cute. Are you a voice actor?
- You: A seiyuu. I am living in Japan.
- Stranger: Really, what anime is your favorite?
- You: I don't know, a lot. What is yours?
 - Stranger: Boku no Pico? I'm joking.
- You: Wow, Boku no Pico is your favorite? Oh I love Boku no Pico, man.That's a bom!!! (in your real deep male voice).
- Stranger: (speechless)...
 In case ou do not know what Boku no Pico is, it is a series of transgender young boys portrayed in an erotic manner, released by Natural High studios. Due its explicit sex scenes and pedophile nature it's often used as a troll suggestion to anime newcomers and as a shock video.
 How to change your voice from male to female
- Download voice changer app: 
Voice Changer Software - Realtime male, female, celebrity voice changing
- Open the software you just downloaded AV Voice Changer Software Diamond
- Choose Nickvoice -> Choose Male voice to...
Boom!!! With just one click, your voice is changed to a female, from a babygirl, a tennager to a sexy woman or even a grandma with different characteristics.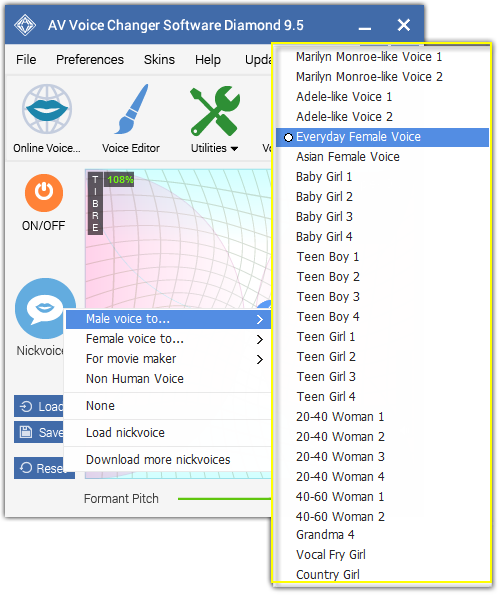 The awesome thing is, you can adjust however you like it. Higher pitch? Or younger, older, a clear voice or a breathy, vocal fry? Just use the right panel with the main Pitch - Timbre graph to satisfy your need. 
The thorough tutorial of using Voice Morpher can be found here.
I hope that you enjoy the voice changer app. Make some funny prank call after this.
Related