TeamSpeak voice changer will be your key to a new fun "nice" voice chat with your pals. In case you are wondering what we will do, just imagine, we will use a voice changer to connect to TeamSpeak, have some new voices like Obama, Morgan Freeman, Darth Vader, even mimic your friends, change voice from male to female as well as many background effects to put in your conversations.
In this tutorial, we will use AV Voice Changer Software Diamond to magically transform your voice into another voice in just a few clicks. Have fun in your real time conversation. Yes, this awesome software can be used with TeamSpeak in real time. You talk, it transform, your pals hear, instantly.
What is AV Voice Changer Software Diamond 9.5
This is a voice changer software developed by AVSoft Comrporation and distributed through their website https://www.audio4fun.com/. It is fully compatible with any Voip application and can work as voice changer for Discord, Skype, Viber, and many more.
Perfect for a conversation in real time with many voices, voice effects, background effects as well as other audio activities such as recording, audio editing, converting, etc.
You can download AV Voice Changer with this link below from Audio4fun:
>> Free download Voice Changer 
TeamSpeak voice changer settings
To use TeamSpeak voice changer, simply follow these steps:
- Run TeamSpeak
- On main menu, click on Settings (1)
- Choose Options (2) to open TeamSpeak's Options dialog box.
In the Options dialog box:
- Select Capture (3).
- In Capture section, choose Microphone (Avsoft Virtual Audio Device) for Capture Device (4).
- Click OK (5).
Prepare AV Voice Changer Software Diamond 9.5
- Download and run AV Voice Changer Software Diamond 9.5
- On main panel, click on Preferences (1)
- When VCS Preferences dialog box appears, choose Virtual driver Mode (2)
- Click OK (3)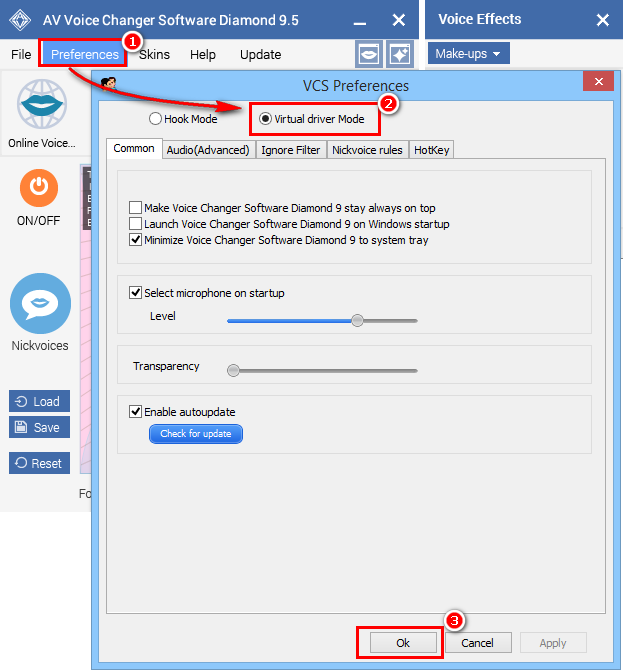 We would like to explain a little bit, Virtual driver Mode will help Av Voice Changer Software Diamond 9.5 focus solely on TeamSpeak. Therefore, this means that your calls on TeamSpeak will have the highest quality.
>> You will not only change your voice, but also improve voice quality. Sounds really cool, right?
How to use Voice Changer for TeamSpeak
First way to change voice:
The quickest way to change your voice from male to female, female to male, animal and many other voices is by using the Nickvoices.
Nickvoices are the ready-to-use voice presets with a different categories for you to choose. With these presets, you only need one click to transform your voice to another.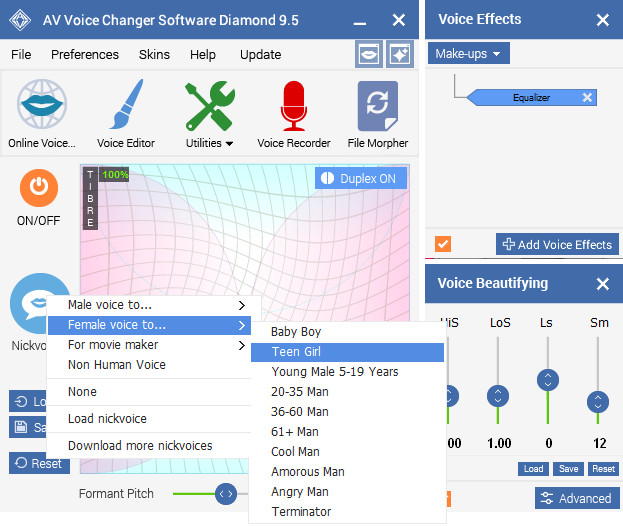 Second way to change voice:
On the other hand, this will be the most creative way to change your voice. Why? Here is the deal, read carefully! You will be able to produce the most impressive new voices based on your original voice.
The reason is that, each person has their own unique set of voice fundamentals, by manually modifying these variables, you will be able to achieve unimaginably good voices. For example, you will be able to talk exactly like Darth Vader, narrate audio like Morgan Freeman or sing even higher pitch like Justin Bieber.
 Look carefully, there are only three parts to explore:
1. Pitch and Timbre graph:
This will be the main tool to change the age and gender of your voice.
- Move the pointer to the left/right, your voice will sound lower/higher.
- Move it up/down, your voice will sound younger/older.
2. Voice Effects:
You have a huge built-in effects for different uses:
- Voice effects such as cut bass, delay, radio, reverb, etc. 
- Background effects: sound like you are in a big room, traffic jam, a forest, an ocean, etc.
- Equalizer and many custom presets to alter the characteristics of your voice.
3. Voice Beautifying:
This is how you are going to have the most unique voice ever. OMG! This is the feature to improve your voice quality, even form a accent.
In-depth tutorial on using those features can be found at:
>> How to use Voice Morpher in Voice Changer Software Diamond 9.5
And now, make a call to your friends and enjoy the result.
Tell them, "I am your father!", LOL.