Lighten your OBS Stream with fun stuff from OBS voice changer and get more view, isn't that cool? In this post today, we will show you how to use voice changer software for OBS and make your live stream on Twitch, Youtube, or any other platform the most entertaining.
In this tutorial, we will use AV Voice Changer Software Diamond 9.5 to change your voice to any voice, mimic famous people, sound like Chipmunk, Darth Vader or anyone. The awesome thing is that you can change to other voices in real time and go live on OBS Stream. There is also a huge library of effects to apply to your voice, add background effects, non-human voices and more. You can sound like staying at a bus stop, a traffic jam, background music and many other cool things.
Step 1: Configure OBS voice changer
- On main panel, choose Preferences (1)
- When VCS Preferences window appears, choose Virtual driver Mode (2).
- Click OK to apply the new setting.
Virtual driver Mode can help the voice changer software focus solely on the OBS Stream, which will enhance the quality of your voice.
Step 2: Adjust settings OBS
To use voice changer for streaming on OBS, you will need to:
- Launch OBS Studio.
- On the main panel, choose Settings... (3)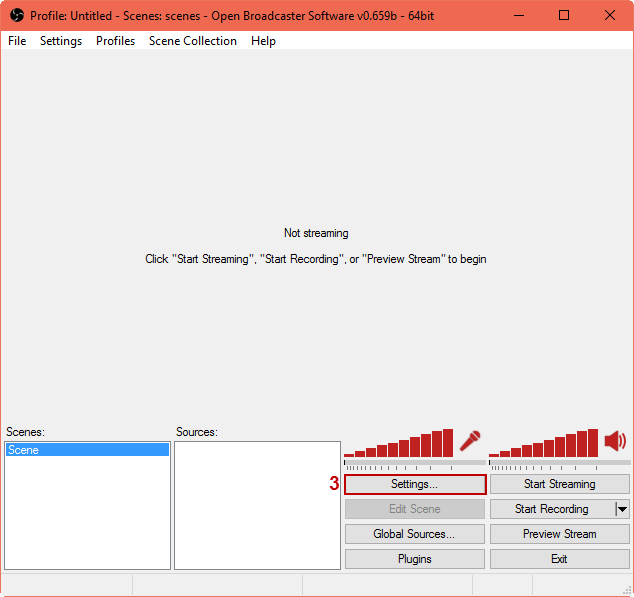 - In Settings... window, choose Audio tab (4)
- Select Microphone (Avsoft Virtual Audio Device) as the microphone input (5)
- Click OK (6) to apply changes and close the window.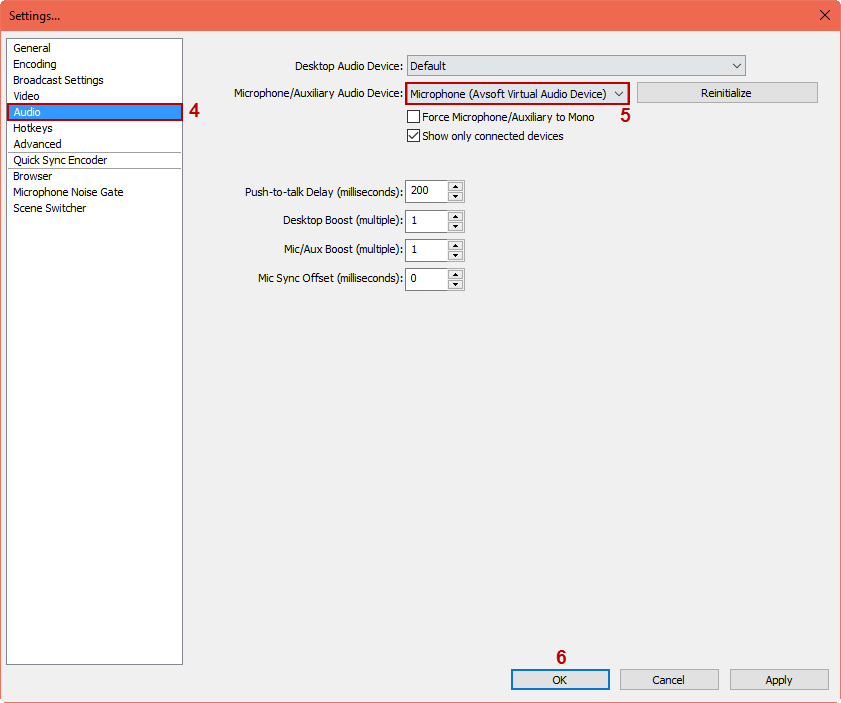 Step 3: Adjust Voice changer software for OBS
- You can change your voice in one click with Nickvoices.
Nickvoices are the built-in ready-to-use voice presets that can change your voice from male to female, female to male, non-human voices and many more.
>> Check the link below to use Nickvoices:
- The other way is Voice Morpher feature
You can creatively change the age and gender of your voice with Pitch-Timbre graph.
You can add voice effects, background effects and many more.
You can enhance voice quality with Voice Beautifying.
Step 4: How to change your voice on Twitch, Youtube and more with OBS voice changer
At this point, the only things left to do is:
- Make sure you open both OBS Studio and Voice Changer Software Diamond 9.5
- You already change your voice in voice changer software
- just speak into the microphone, your voice will be morphed instantly in real time.
Have fun and enjoy.