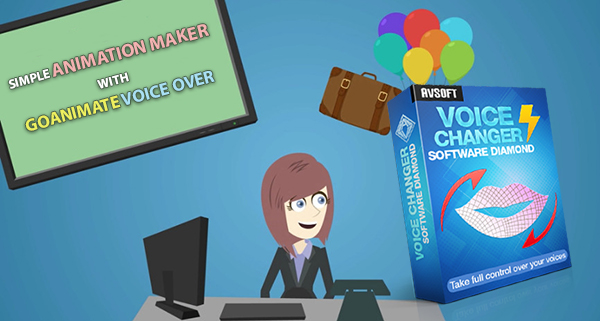 Are you looking for a way to create a video? Then this will be a very good idea to not just make a normal video, but a very informative animation video. We will use an animation maker named Goanimate with AV Voice Changer Software Diamond 9.5 - aka used as Goanimate voice-over tool.
What is Goanimate?
You can visit Goanimate via their website here: https://goanimate.com/
In short, this is the platform for you to create your own animated videos on a browser. You can create:
- Hard drawn animation (whiteboard videos)
- Animate videos with characters.
The options are very versatile: there are many characters, different background, drag and drop template, etc.
And most importantly, they have a sound system to voice over your character from text to speech. But it sounds robotic sometimes. Therefore, there is the option to voice over your character with your own recordings within the browser.
What we use for Goanimate voice-over
In this tutorial, we will show you guys how to do Goanimate voice overs with different voices using AV Voice Changer Software Diamond 9.5
This is software that can change your voice to any voice you want. When making the video, what if you want to do a voice over in a grandma voice, what do you do?
Voice Changer can help you change your voice to a boy, a girl, a sweet female, a grandpa, Darth Vader, Chipmunk or anyone.
Just connect AV Voice Changer Software Diamond to Goanimate with this step-by-step tutorial and you are good to go.
Step 1: Voice changer settings
- On main panel, choose Preferences (1)
- In VCS Preferences window, choose Virtual driver Mode (2).
- Click OK (3)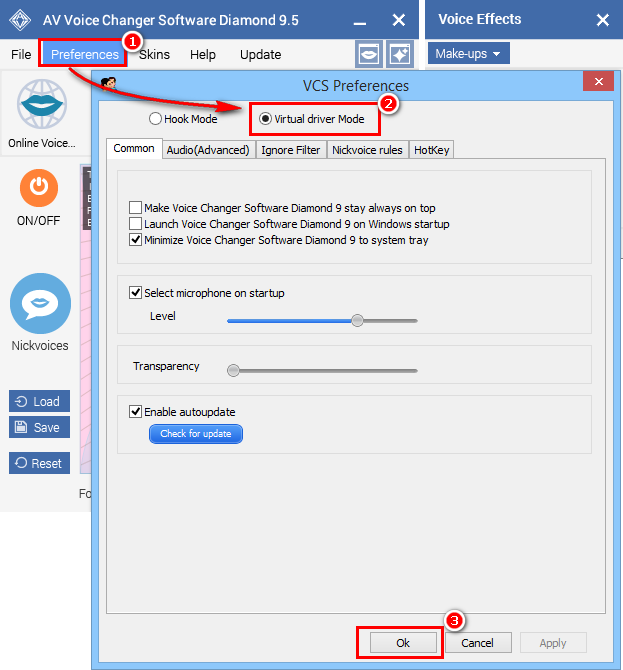 Step 2: Connect voice changer for Goanimate voice over
- Go to https://goanimate.com/ and start your video.
- Select the scene, choose Scene Settings (1).
- On the Narration tab (2), select Mic Recording (3).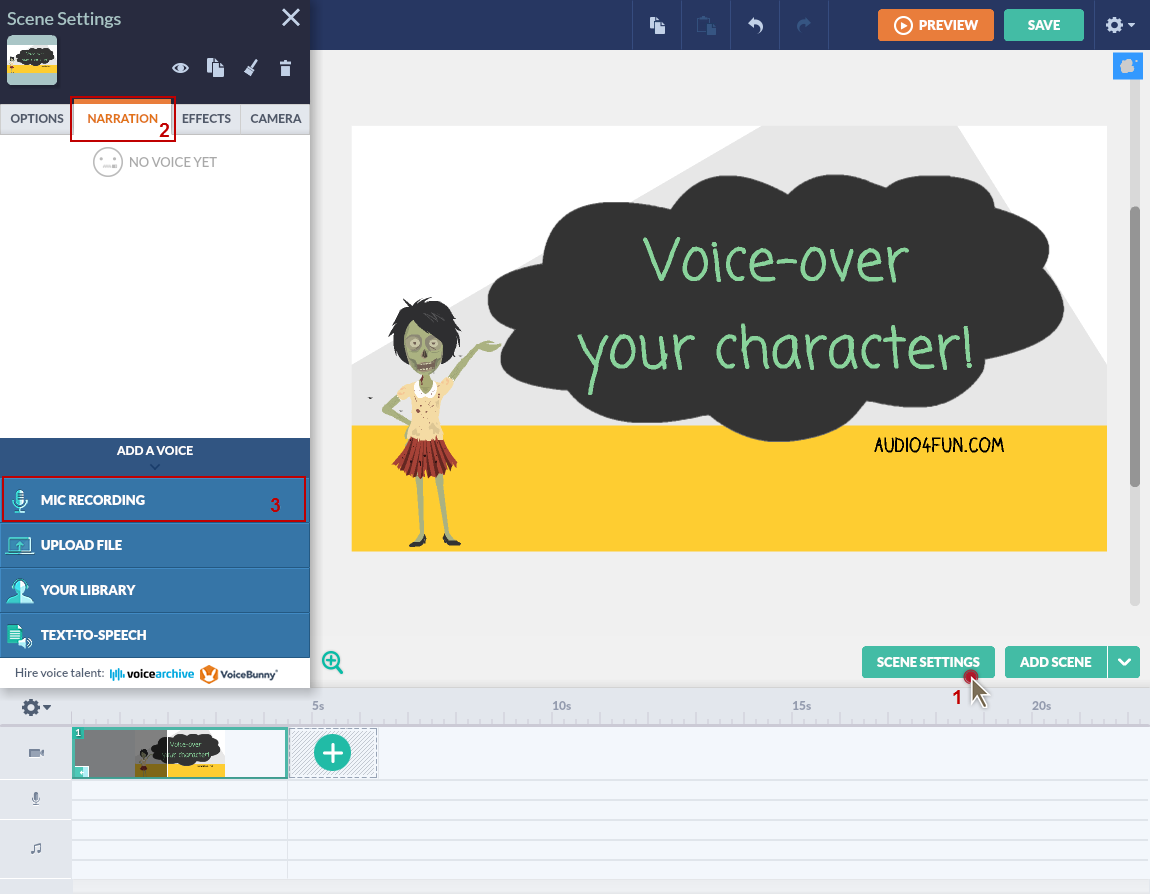 - When Adobe Flash Player Settings dialog box appears, click Allow.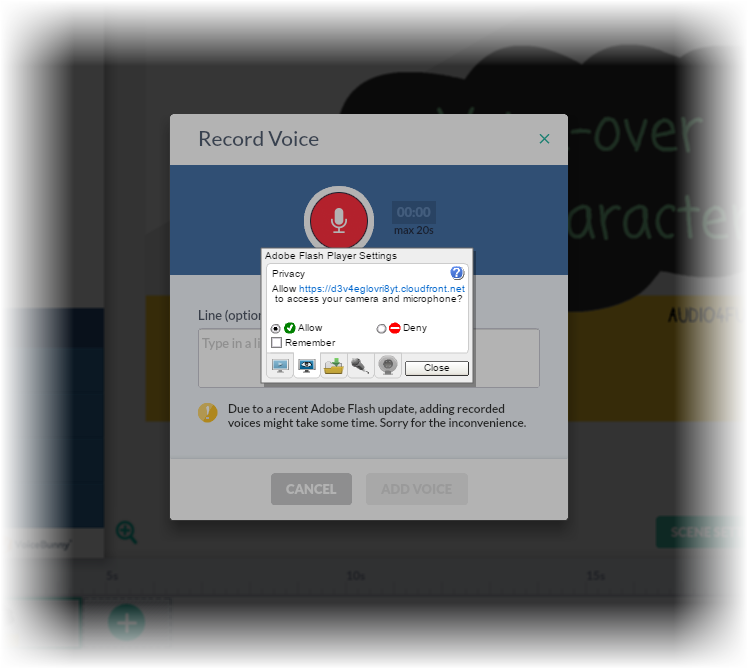 - Wwitch to Microphone tab (4) and choose Microphone (Avsoft Virtual Audio Device) (5). Close the dialog box.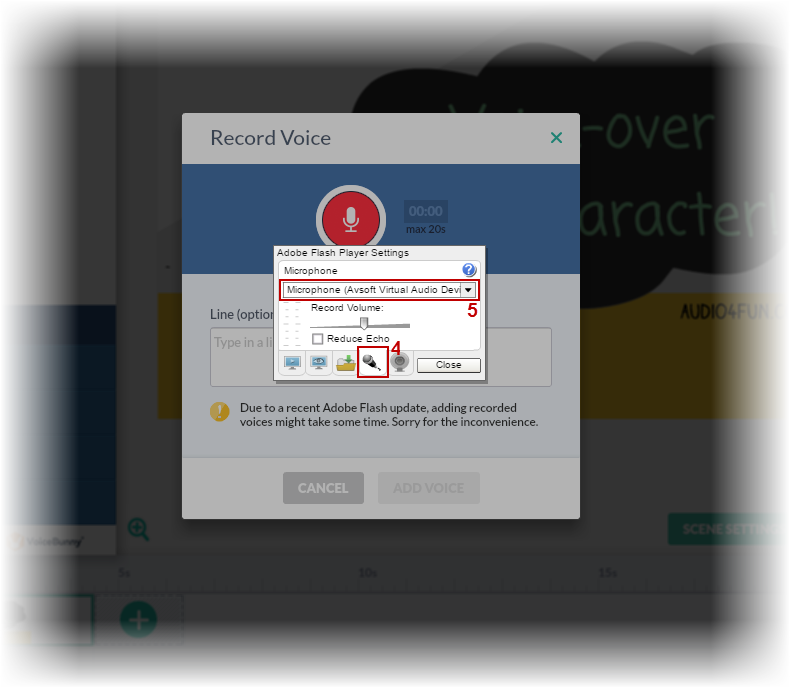 Step 3: Prepare your voice and start the Goanimate voice overs
 To change your voice in AV Voice Changer Software Diamond, simply follow this tutorial:
- Back to GoAnimate, press Record button and start talking. Your voice will be automatically morphed.
You can record up to 20 seconds each time. Press Stop when finish.
- Preview your recording (6). Click Add Voice (7) to import it to the scene.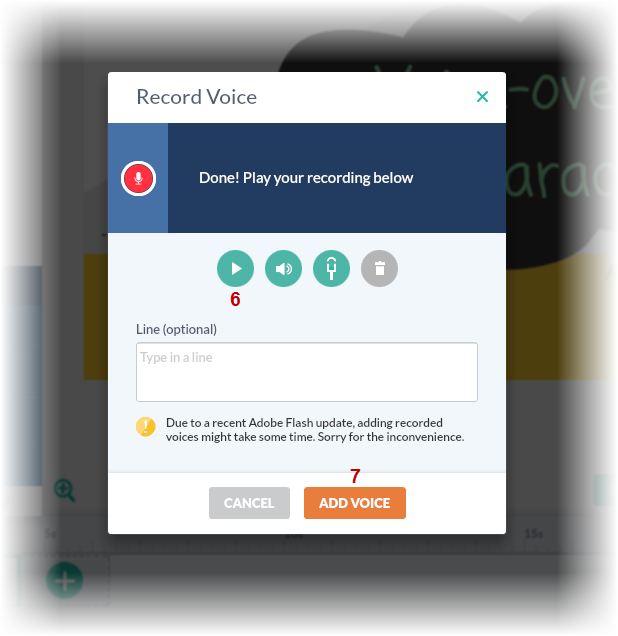 - Shortly, your newly added voice will be showed on the timeline.