Discord voice changer will help you to enjoy a better Discord voice chat. In case you do not know what Discord is, it is a voice chat, free and very good to use for gamers. Pretty good to use when talking in-game, but you can increase the fun enormously with your pals with a voice changer.
Just download the AV Voice Changer Software Diamond and connect the two software, you will be amazed at what you found. Change voice in real time, record your gaming conversation, realistic and high quality voice algorithm, this gaming experience will never be forgotten. Discord can be considered very light and useful with modern features compared to other voip voice chat.
Step 1: Prepare AV Voice Changer Software Diamond
- Download and install AV Voice Changer Software Diamond
-  Open the software, click on Preferences
- Choose Virtual driver Mode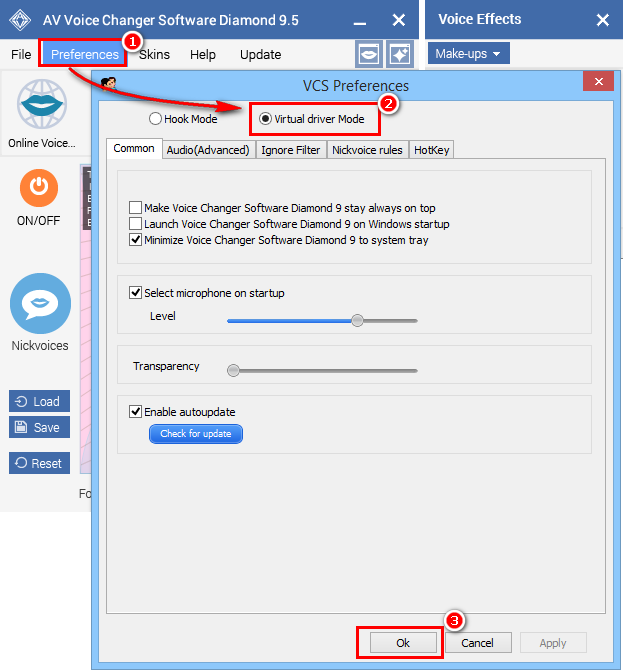 Now, it's ready to be connected to Discord.
Before connecting, you can change your voice to different voices using the Voice Morpher feature (which is the whole right panel)
There are many ready-to-use voice presets, a.k.a Nickvoices to use. Tranform your voice instantly with one click to a sexy woman, a cute girl, grandma or famous celebrities.
Step 2: Discord voice changer
- Open Discord, select setting icon.
In USER SETTINGS dialog box:
- Choose Voice tab (1)
- In Basic section. Change Input Device to Microphone (Avsoft Virtual Audio Device) 
- Click Done button to apply settings and close the USER SETTINGS dialog box.
 And now, the two software are connected. Open both at the same time, try different voices and call your friends with voice changer for Discord. Have fun gaming.
Want to see an example? This is how it can be used for different voices.

Dota 2 Heroes Read YouTube Comments (w/ AV Voice Changer Software Diamond)