Add logo to video - With this video logo maker, you can import your logo/ watermark into your video clips with ease. This is the best tool with the quickest way to add logo without any researching. Anyone can use the software to add logo, configure transparency, position when it appears.
In this guide, we will check the AV Video Morpher to add logo to your video, a very handy tool to edit video, add effects and even some professional manipulation. The best thing is that it's so easy to use that any can get the job done right at first try.
 Step 1: Open your video
- Open AV Video Morpher. You can download the software here.
- Choose Video (1)
- Select File (2) and click on Open file...
Step 2: Add logo to video
- On the left Playlist, choose your video.
- Look at bottom right, under Video effects >> Surface >> click on Logo.
- Make sure that Effects to apply and Logo effect are sticked.
 Step 3: Choose settings for your Logo
In this step, you will select your logo in shown on the video. From position, transparency to the size.
- Now, right-click the logo effect to open your logo.
- Choose Properties. 
- In the Logo Settings window, select Browse (…) 
- Choose the image
- Click Open.
Now, choose how your logo appears:
- Change Position with Horizontal and Vertical.
- Change Transparency
- Change Size by selecting Scale.
Step 4: Save your video with logo
Back to your main video
- Select Converter button at the bottom of the panel.
- The Converter module will be shown:
- Select the Output tab (1):
+ Choose output format: AVI (2)
+ Video Compressor: Microsoft RLE (3)
+ Audio Compressor: MPEG Layer-3 (4)
+ Output file: where you want to save the video (5)
- Click Convert (6)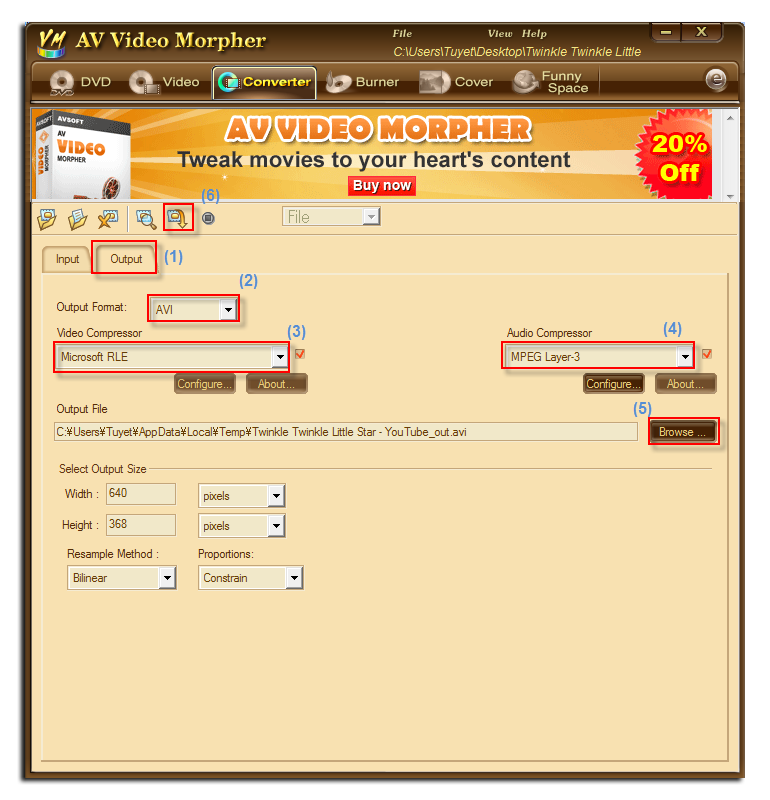 Do you want to see an example? Here it is, with different sizes, positions and transparency.