Talking about live streaming, there are tons of content to watch live everyday (or ユー ストリーム in Japanese). However, if you want to stream your own content to your audience, Ustream is one of the best solution. But it can also be enhanced greatly with Voice Changer Software Diamond 9.5. When these two are connected, you will be able to change your voice to any voice in real time and a whole lot more fun, creative live stream video ideas to do.
Ustream
A "live, interactive video broadcast platform" - Ustream TV.  Anyone can conduct a live interactive video broadcast to anyone at anywhere in the world.
Voice Changer Software Diamond 9.5
This will be the source of fun and creative content for your broadcasts. Have fun with your new voices, because you will be able to change your voice to any kind of age and gender, voice characteristics and sound quality. Moreover, you can also make fresh remixes of music, tell stories in background effects and many other features to use.
So, how do I use this software with Ustream? Just 3 simple steps:
 Step 1: Prepare Voice Changer Software Diamond
- Download and install AV Voice Changer Software Diamond
- Open the software, click on Preferences (1)
- Choose Virtual driver Mode (2)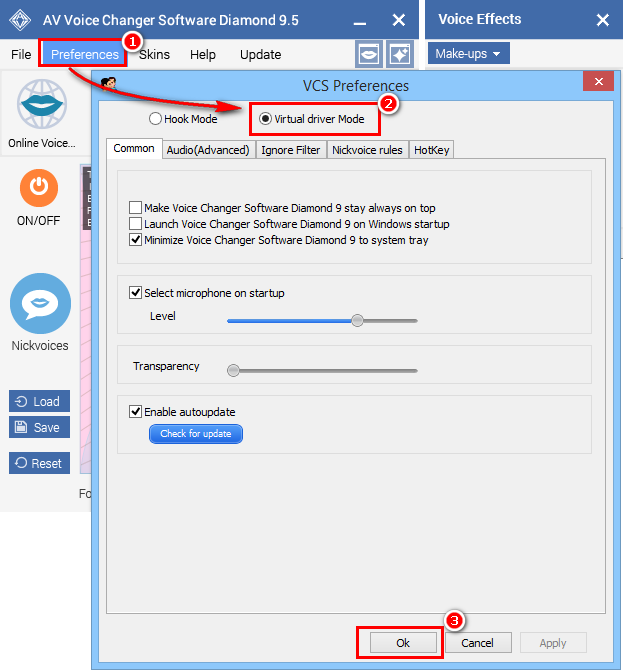 - Click OK (3) and close the window.
Step 2: Ustream voice changer
- Connect to your Ustream broadcast page
- Find Audio settings
- Choose Microphone (Avsoft Virtual Audio Device) as the audio input.
From this moment, Ustream will have Voice Changer Software Diamond 9.5 as the audio source.
Step 3: Change your voice in Ustream and enjoy
Whatever you talk will be modified by Voice Changer Software Diamond and then sent to Ustream. For example, you can choose settings of a sweet woman's voice and then talk into the microphone, it will transform your voice and everyone else watching your stream will hear the voice of a woman. Cool, right?
So, how to change your voice to different voices?
1. Using ready-to-use Nickvoice
You can change your voice in just one click with the built in settings. From male to female, female to male, non human voice and even movie making voices. You can sound like a grandma, young man, teen girl, baby boy to a cow, dog or ghost, etc.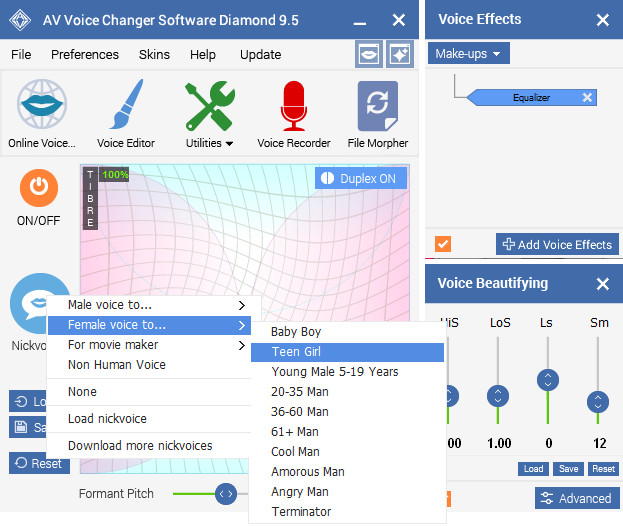 2. Use Voice Morpher feature
This is the most creative way to use Voice Changer Software Diamond. You can free adjust settings, Equalizer, add more vocal and background effects as well as enhance sound quality to suit your voice the best.
Imagine, you can even tell everyone there is a cow next to you, or you are streaming from a forest, a beach or even the in a traffic jam.
Have fun with your live streaming.