Did you know? AV Webcam Morpher has the ability to show a video through webcam when you are calling your friends via Skype, ooVoo, etc.
In this post today, we will show you how to show a scary video clip on webcam while video calling. Halloween is coming, time to scare some friends with fun tricks.
Step 1: Settings of AV Webcam Morpher
- Download AV Webcam Morpher
- Click Clips button to open the Shared Clips module.
Notes:
- All instant messenger programs not necessarily in use should be closed to optimize the sharing process.
- You should also remove all Logitech Webcam applications to avoid any conflicts or problems with video displaying in AV Webcam Morpher.
Step 2: Choose your horror video
- Click Add Clip button under the pane to bring up the Open dialog box.
- Select the video clip you want to show.
- Click Open to open the file and close the dialog box.
Step 3: Preview the video
Double click on the video file name in the Clips pane to play the file, or click on the Play button to play.
Note:
* Make sure that the Preview button is ON (highlighted) to display the video in the Preview screen.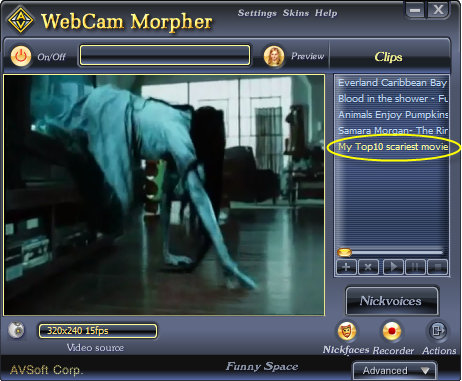 Step 4: Invite friends for a video call
And now, everyone, it's time to invite your friends for a video call.
And when calling, turn on the clip, bring a little scary horror this Halloween and enjoy the moment.