Isn't it that time of the year to start doing something new for a Merry Christmas? You can find some free ringtone downloads but it will never be as cool as a special ringtone made by yourself with Christmas songs. Refresh your phone with a new Christmas ringtone is a good idea to start your journey for this year end's event.
A fresh air once in a while, may be? Produce your own free ringtones for Christmas with a free software. The steps are also very easy to do with this simple tutorial.
Free ringtones for download
Before reading the tutorial on making the ringtones by your self, if you are a lazy person, then you can download free ringtones at this link below.
Make your own ringtones
If you are not satisfied with any rinetone out there, this is an easy solution to make your unique and the best ringtones with AV Audio Editor
This is a free software to edit your audio file, add effects and turn them to funny, cute and creative ringtones.
Step 1: Choose your audio files
- Run AV Audio Editor.
- Click on New Multitrack Session.. (1)
- In the new window, choose Sample Rate and Channels (2)
- Leave it at 44100 and Stereo if you are not sure which to choose. 
- Click on OK (3).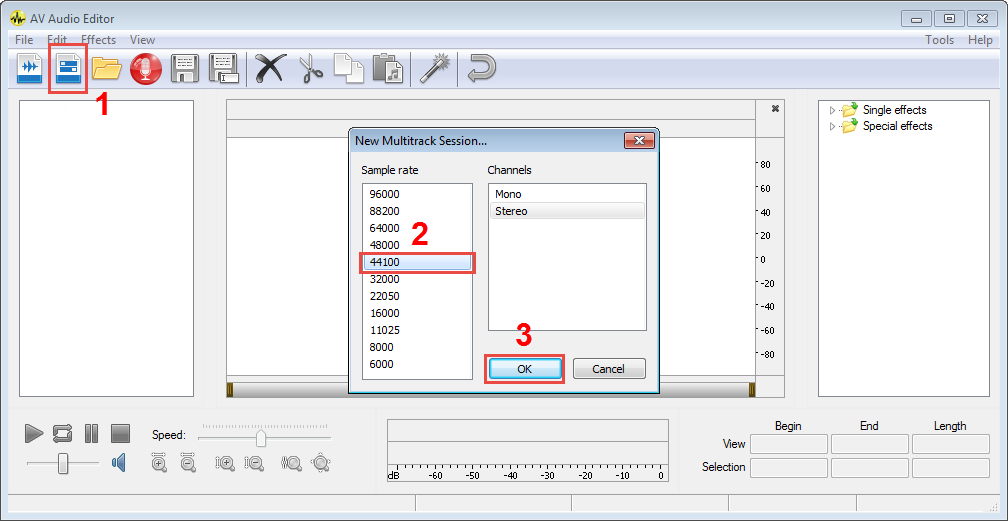 - Double-click on the track where you want to add the audio file (1).
- Choose your file and then click OK (2).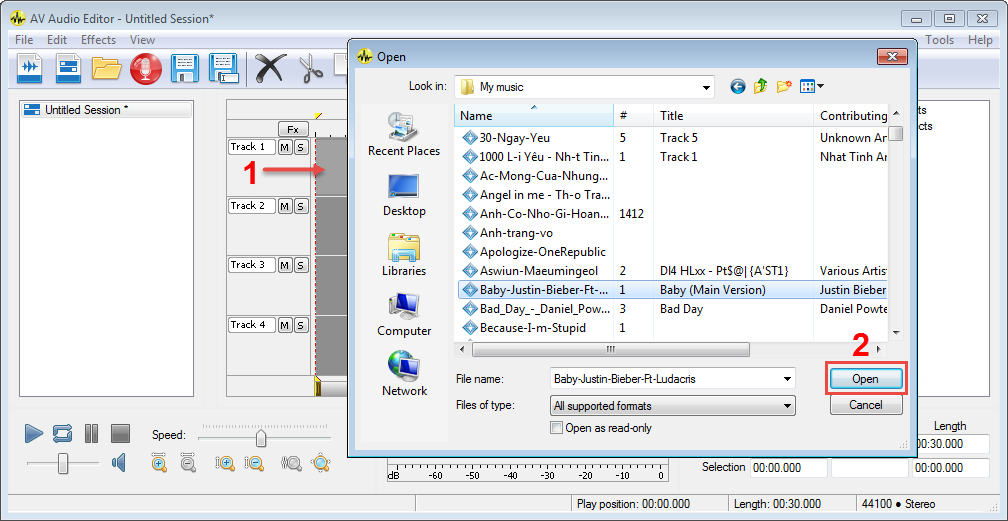 Step 2: Edit the best part to make your ringtones
- Normally, you may be very likely to use only a part of the audio file
- Drag mouse on the parts you want to delete (3)
- Press Del (4).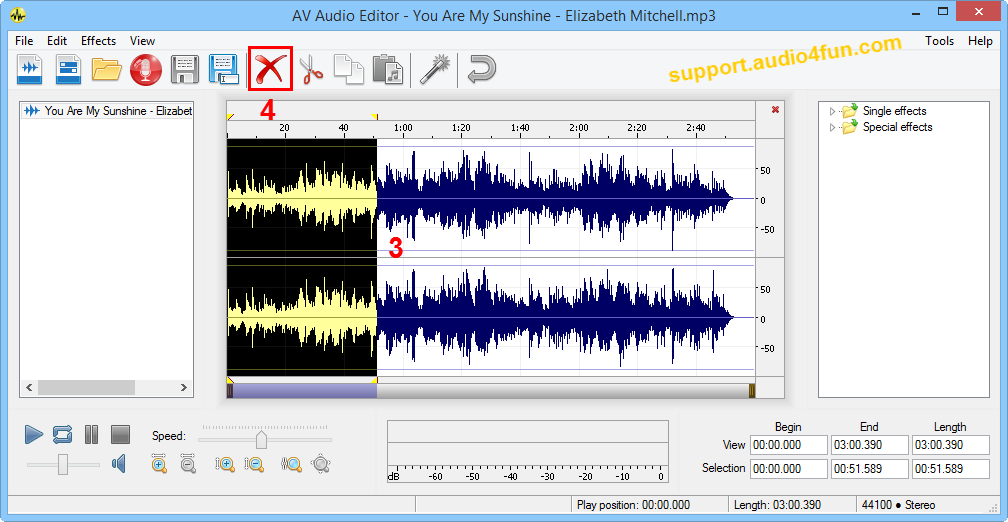 How to add free audio effects? 
-    Click on the track's portion that you want to add effects (1).
-    Select any effects in the sidebar (2).
-    Click Close (3) close the dialog box .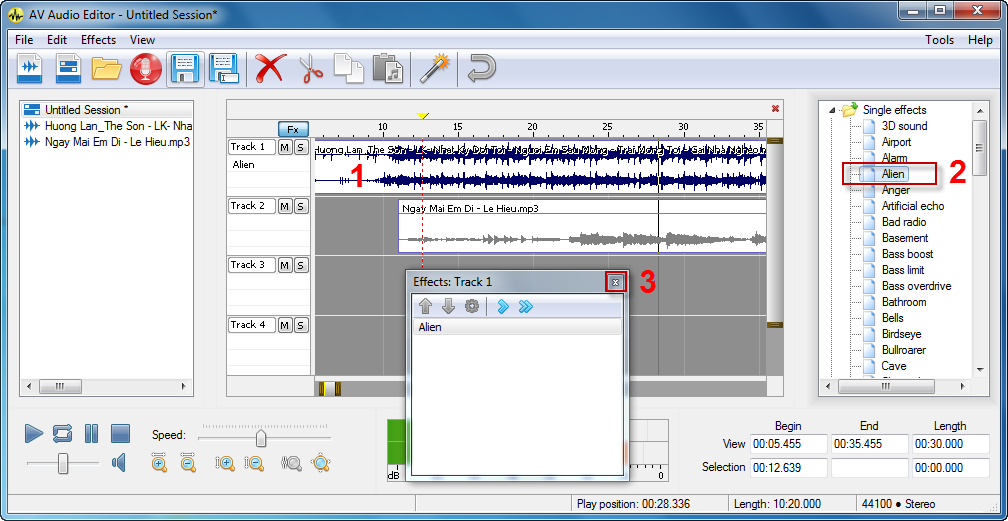 Step 3: Review and save your ringtones
- Click on the ringtones you want to hear (1).
- Click Play button (2) to start hearing.
 How to save if you are satisfied?
-    Click Save as… (1).
-    Choose the format type at Save as type (2)
-    Click Save (3).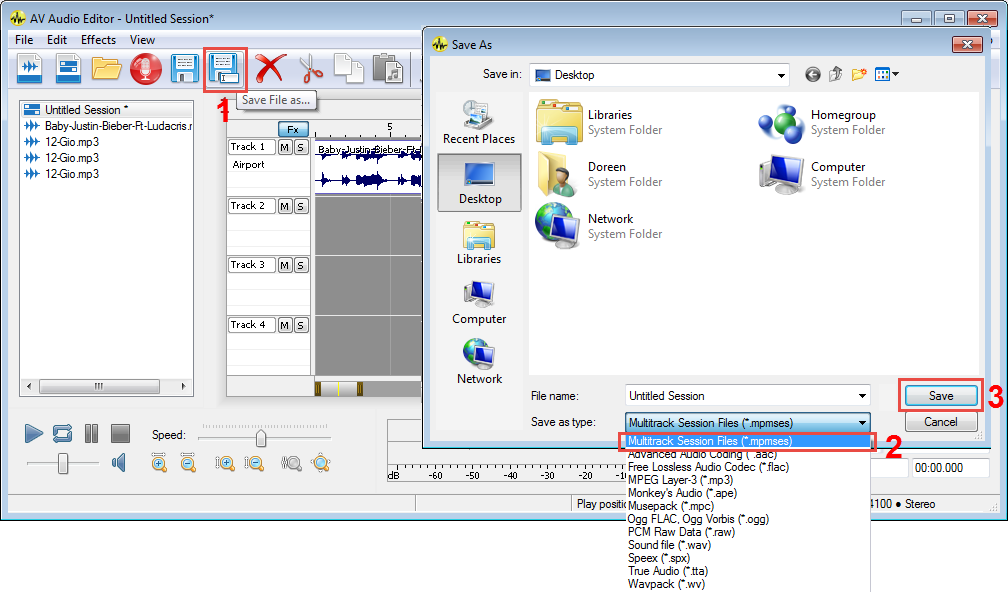 Note:
- Save a version of your ringtone as *mpmes format so you can edit it by AV Audio Editor  the next time.
- Save as *acc, *wav, *mp3, *ogg, or *raw: you will have your ringtone with normal quality.
- Save as *flac, * ape , *mpc, *spx, or  *tta: you can get lossless ringtones with  higher quality.
Enjoy your Christmas ringtone. Refresh your way of picking up the phone once in a while, doesn't it?
Useful tutorials
- What should you know about Christmas?
- Tutorial: How To Make A Santa's Video Call On Facebook