In this post today, I will introduce an interesting combination of the two software: Zello and AV Voice Changer Software Diamond. You will be able to connect voice changer to Zello and enjoy the exciting radio moments.
What is Zello?
It is a software featuring traditional two-way radios, and also offering additional features such as history, replay last message, notifications and Bluetooth device support.
It is available for Android, iOS, Blackberry, Windows Phone, Windows PC and rugged mobile devices.
Step 1: Make sure your VCSD9 is on Virtual Audio Device mode
- On main panel, choose Preferences menu to open VCS Preferences window
In VCS Preferences window:
- Choose Virtual driver Mode radio button (1)
- Click OK (2) to apply new settings and close the Preferences window
 Step 2: Change Audio settings of Zello
 - Run Zello
- Choose Tools menu >> select Options to open Zello Options dialog box.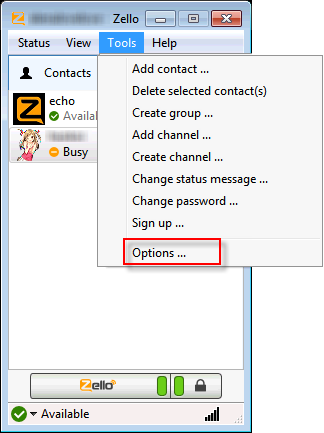 In Zello Options dialog box:
- Choose Audio tab
In Recording device section, change it to Microphone (Avsoft Virtual Audio Device).
- Click OK to apply settings and close the Zello Options dialog box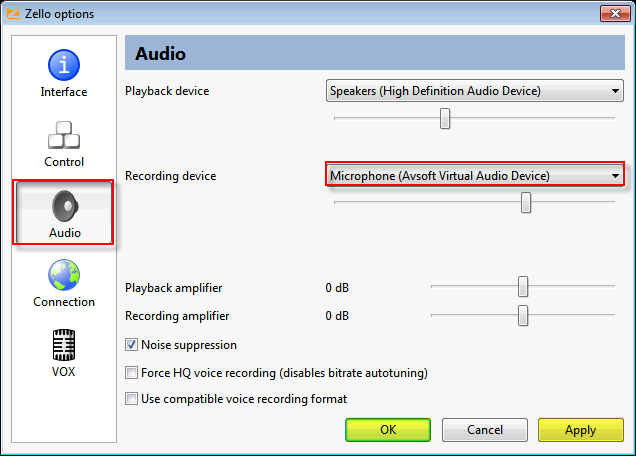 Step 3: Start your radio communication
In Voice Changer Software Diamond:
- Change voice immediately with Nickvoices – the built in voice presets for instant use.
And:
- Voice Morpher feature: the most creative way to use software. Do whatever you want with your voice.
- Voice Beautifying: adding effects and adjusting your voice more naturally.
- Effects: for more background and audio effects.
Add-on store is also a cool place to get more voices and effects.
And now, you can enjoy the funny and exciting Zello communication with voice changer.