Morgan Freeman (born June 1, 1937) is an American actor, film director, and narrator. Freeman has received Academy Award nominations for his performances in Street Smart, Driving Miss Daisy, The Shawshank Redemption and Invictus, and won the Best Supporting Actor Oscar in 2005 for Million Dollar Baby. He has also won a Golden Globe Award and a Screen Actors Guild Award. Freeman has appeared in many other box office hits. He is known for his distinctively smooth, deep voice. By using Voice Changer Software Diamond 8.0 (VCSD8), you can own his special voice easily. 
Step 1: Basic voice changing with Pitch and Timbre graph
Run your Voice Changer Software Diamond and turn on Voice Morphing graph.
By changing the position of the cursor, your timbre and pitch will sound differently.
In my opinion, adjusting Pitch at 72% and Timbre at 109% like below image will make your voice sound most like Morgan's.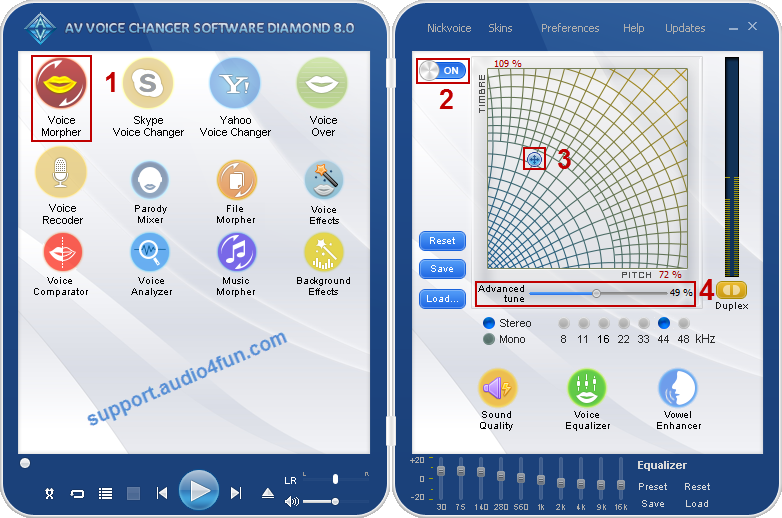 Then, adjust the Advanced Tune slider (4) to improve the quality of the output. My personal choice is 49%.
Step 2: Improve output with Equalizer
In Equlizer session, click Presets >> Superbass
Step 3: Add Effects to enhance output quality
On the left panel, click Voice Effect button >> Click On to activate the effects.
In Band Pass Filter folder, tick to choose Radio
In Band Reject Filter folder, tick to choose Bass Cut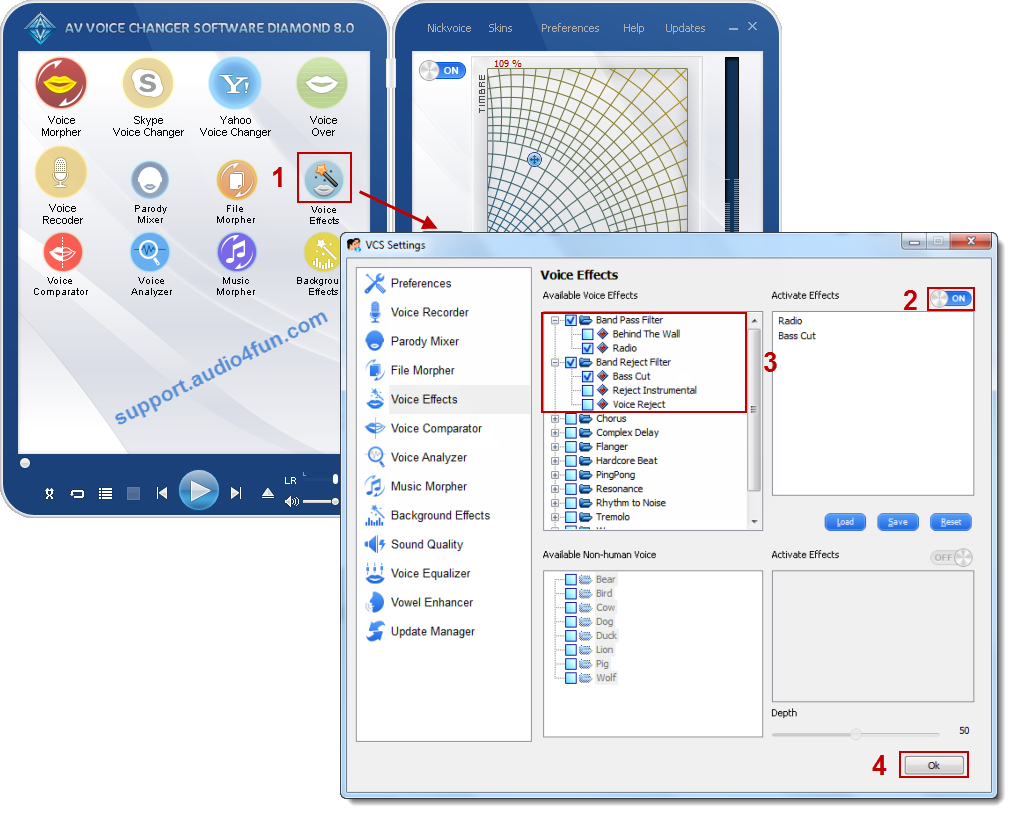 Step 4: Save "nickvoice"
Click Save and choose the destination folder where you want to save your Morgan Freeman nickvoice.
Alright! Now you can run Skype, Yahoo, AOL, ...and start to use this nickvoice to speak in the coolest voice while chatting with your friends.
You can check this tutorial session out to look for more voice changing tutorial.