AV Audio Editor is a simple but powerful audio editor that will suit both beginners and professionals for editing and morphing audio. It offers a fabulous audio effects for your creative sound design. And the best part is that the program is 100% FREE.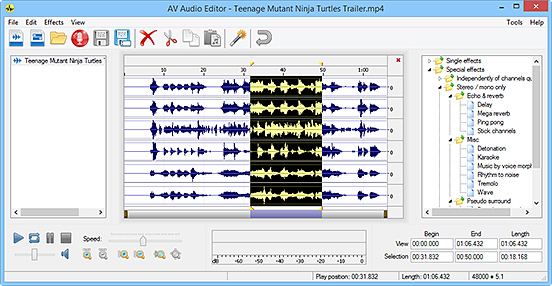 *** The Richest Library Of Effects Plug-Ins For Sound Design ***
Whether you are a beginner or pro, now you can just explore and exploit the richest ever library of effects plug-ins, filters, and tools as well, for mastering your audio files. It includes 50 special effects with more than 600 ready-to-use artistic and technical presets, a set of Voice Morphing tools, and a full range of Equalizers.
Do anything with audio, from common editing functions (cut, copy, paste, undo, redo, select all…) to audio recording, multi-track editing, audio mixing... The simple, user-friendly interface with the audio effects file-explorers will allow you to easily and quickly create new files in stereo, wide stereo, quadraphonic, 5.1, or 7.1 channels, customize and add audio effects, then save them in virtually any format.
The only limit is your imagination; all the tools you need are right at hand to remix songs, create ringtones, record and change voices to make your own voice-overs, boost or normalize volume, remove buzz and background noise, control every aspect of the sound, make sound effects, create surround sound content and even implement simple algorithms for your own audio projects.