Today's tutorial will guide you on how to have fun while chatting via webcam with your friends, using the unique AV Webcam Morpher.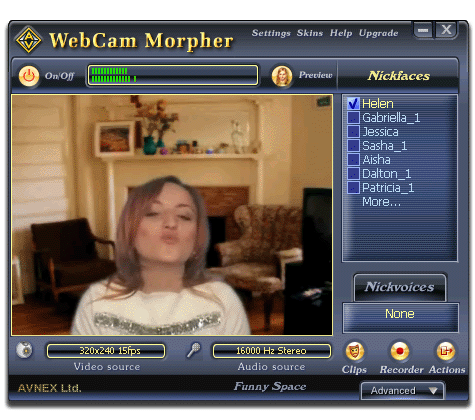 What is Zoiper Communicator?
Zoiper Communicator IAX & SIP softphone is a converged Internet communication tool combining high-quality voice and video calls, fax, instant messaging and presence through a contact-centric intuitive interface.
Requirement:
- You will need to connect your Zoiper Communicator account upon login.
In this tutorial, we will guide you on how to use AV Webcam Morpher Pro while video chatting via Zoiper Communicator.
Step 1: Prepare nickfaces with WCM 2.0
Run AV Webcam Morpher Pro >> Pick up an available nickface in Nickface list or click More to download some from our Add-on Store
Learn more on how to manage your nickface.
Step 3: Change the Zoiper Communicator settings
- Run Zoiper Communicator, and login your account.
- Select Settings menu (1) >> Choose Audio Wizard command (2) to open Zoiper Communicator Audio Wizard dialog box.
- In Zoiper Communicator Audio Wizard dialog box, select Camera catelogy (3).
- On the right panel, choose AV Webcam Capture radio in Device section (4).
- Click OK button (6) to finish settings.
- Note: Click Start the test button (5) to check the output webcam's quality and follow the instruction.
- Click on Yes button (7) to make sure your settings is chosen.
 Step 3: Start call with the fake webcam
Now, you can turn back to Zoiper Communicator and start video chat with friend using AV Webcam Morpher.
Note: Do NOT turn off Webcam Morpher when doing video chat with Zoiper Communicator
Learn more on how to change webcam background for your Webcam nickface.
Source: Audio4fun Support Center