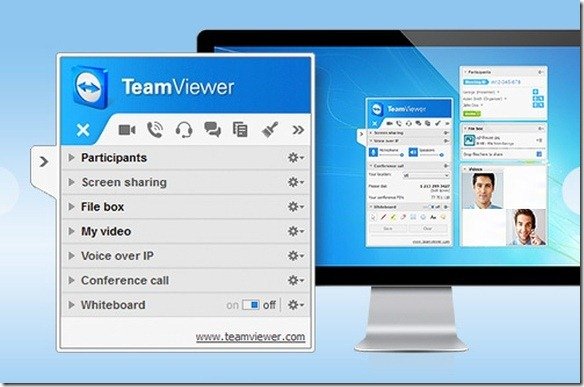 TeamViewer is a proprietary computer software package for remote control, desktop sharing, online meetings, web conferencing and file transfer between computers.. It is also possible to access a machine running TeamViewer with a web browser.It was founded in 2005 in Uhingen, Germany. Permira acquired TeamViewer GmbH from GFI in 2014.
This tutorial will show you how to impress your business partners during an e-conference using voice changer software for cool voices while presenting.
Step 1: Activate Virtual Audio Driver mode (VAD) in voice changer software
Frist, you need AV Voice Changer Software Diamond (VCSD) installed on your computer.
-    Run VCSD8 >> Click on the Preferences button (1) on the main panel.
-    In Preferences tab , check on Virtual Driver Mode button (2).
-    Click on OK button (3).
 Step 2: Prepare voice with VCSD
 -    Open VCSD8, choose the morphing effects for your voice, and make adjustments until you are satisfied with the output voice.
Note: You should have known how to change voice using Voice Morpher feature, and other voice changing tasks that Voice Changer Software can do.
>> Click here to learn how to apply background effects while chatting.
>> To know how to talk like Boris Animal, click here.
Step 3: Adjust Audio settings in TeamViewer online meeting
-    Run TeamViewer >> Switch to Meeting tab (4).
-    If you want to join in an existing meeting, fill in Meeting ID's and Your Name's fields, then choose Join meeting (5).
-    If you want to start a random meeting, click on Start instant meeting button (6).
-    When the TeamViewer meeting control dialog appears, click on Setting button (7) of Audio section >> select Audio Settings command (8).
-    In the TeamViewer Options dialog, switch to Audio conferencing tab (9).
-    Expand Microphone drop-down list in Options for microphone section and choose Microphone (Avnex Virtual Audio Device) option (10) >> Click OK button (11) to apply settings and close the dialog.
-    Note: If you are host of the meeting, in Audio section of TeamViewer meeting control dialog, choose Voice Over IP mode (12).
-    As default setting, Microphone is muted so click on Microphone button (13) to turn it on.


Step 4: Have fun chatting in TeamViewer online meeting with your new voice 
- Now you can prank your friends while using voice chat in TeamViewer online meeting with this new voice. Please notice that as long as the Voice Changer Software Diamond 8.0 is On, the morphing effects will be applied to your voice automatically. To change it back to your normal voice, just turn off voice changer software.
Source: Audio4fun support center