In this tutorial, we will guide you through the way to set up Voice Changer Software 7.0 (VCS) to have fun with voice chat right in your Gmail account.
» About chat in Gmail?
Gmail's not just for email--you can also communicate with your friends in real time using chat in Gmail! Gmail is part of Google's chat network …
If you're already using Gmail, all you need to do to chat is sign in, invite your friends, and start a chat.
REQUIREMENTS FOR THIS TUTORIAL:
* AV Voice Changer Software 7.0 (All editions: Basic, Gold, Diamond, compare all editions).
* You need to have Google voice and video chat plug-in installed on your computer. Click here to download.
STEP 1: Prepare the voice with Voice Changer Software
Open Voice Changer Software 7.0, choose the morphing effects for your voice, and make adjustments until you are satisfied with the output voice.
Note: You should have known how to change voice using Voice Morpher feature, and other voice changing tasks that Voice Changer Software can do. 
STEP 2: Switch to VAD (Virtual Audio Device) mode
On VCS7 main panel, click Preferences to open the Preferences dialog box.
In the Preferences dialog box, we will change Hook mode to Virtual Audio Driver mode.

- Check VadMode (1).

- Click the OK button (2) to apply the new settings and close the Preferences dialog box.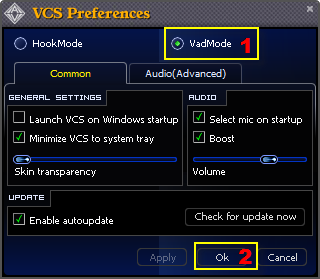 STEP 3: Configure chat settings of Gmail
- Log into your Google Account.
- On the left panel, click on Options button (1) >> select Chat settings (2) >> expand Microphone list and choose Microphone (Avnex Virtual Audio Devices) (3) >> Then click Save Changes (4) to finish.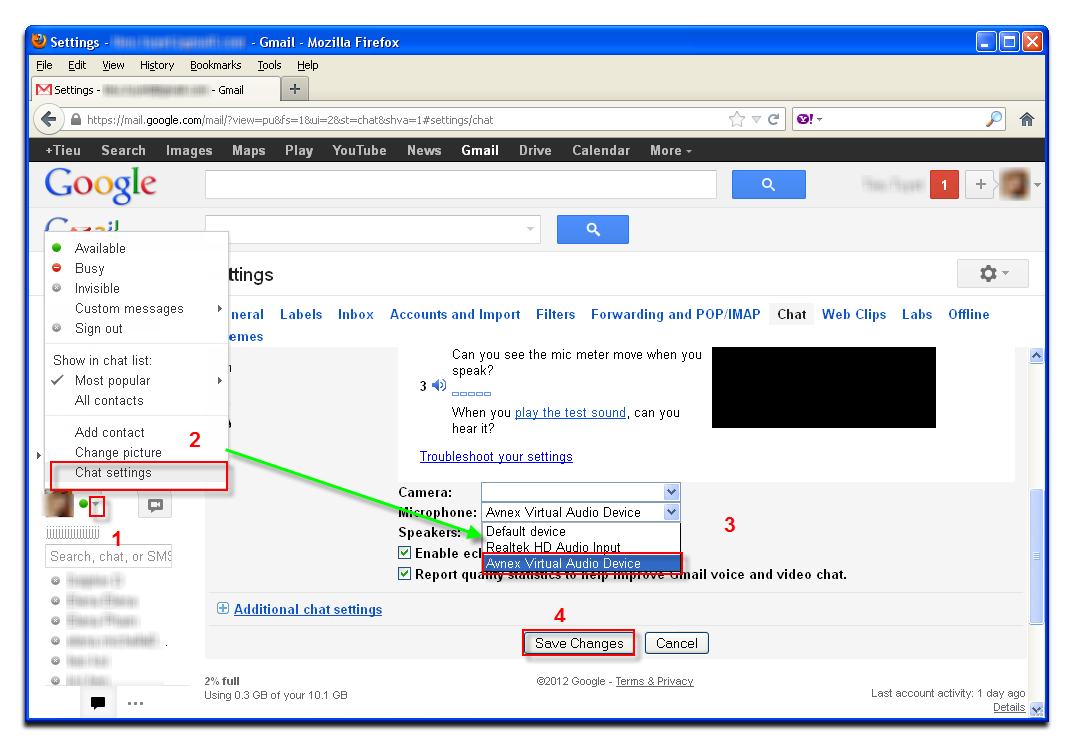 - Now, the morphing effect from VCSD will be applied automatically.
- You can now start the voice chat session on Gmail with your voice changed.
Source: A4F Support Center