Are you a frequent user of IM chat using webcam? If your answer is YES, we have got a super cool tip to improve your webcam chat experience. AV Webcam Morpher is one of the most effective and unique tool that can do magic to your real-time webcam images and drive your chat friends crazy. Let's check it out!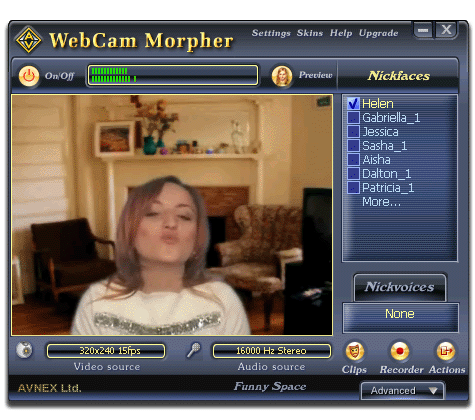 "No real webcam devices required"
With AV Webcam Morpher installed on your computer, you do not need to own any real webcam device. This program itself can simulate a webcam broadcast for you through its unique concept "nickfaces". Meanwhile, your friend still receives a real webcam signal.
"Exclusive controllable 'nickfaces'"
"Nickfaces" are controlled by a pop-up panel called action controller. With over 50 different "nickfaces" available for instant use, you can freely pick the most well-presented your own personality and feelings in real-time chat conversations. In addition, you can also design and create your favorite "nickfaces" by using the convenient Nickface Maker Module.
"Terrific video effects"
A long list of video effects from Webcam Morpher will quickly color your video background, adjust brightness, contrast, grayscale, and many more for the most special video results ever.
"Unlimited webcam recorder"
Record anything your webcam can see for as long as you want to (limited only by the size of available HDD storage) and save it as a compressed video in AVI format.
"Enjoy sharing clips while chatting"
Easily and quickly share clips with friends online with this new feature.
Visit http://www.audio4fun.com/webcam-morpher.htm now to know in-depth specifications about AV Webcam Morpher and special offers for this program.