Are you satisfied with your own voice? Or you want to mimic someone else's voice just to have fun with your friend via internet calling world? Voice Changer Software Diamond 8's Comparator module can make all your wishes come true!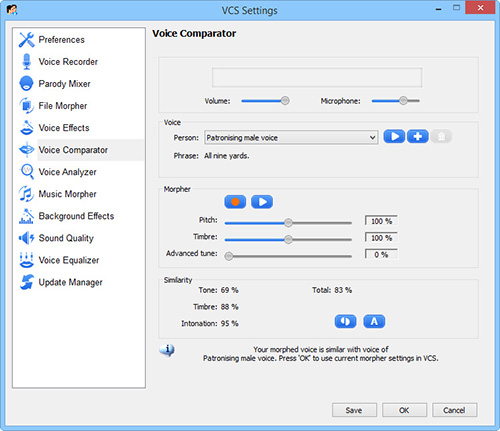 Voice comparator is a cool feature in a voice changer giving you the ability to test how similar your voice is to a target voice. All you need are a sample audio voice serving as your target voice, a voice changer and a good microphone.
Don't worry! Voice comparator panel is very simple and easy to use, it may take you only few seconds to accomplish desired voice.
HOW?
There are 4 steps to go:
Step 1: Import your target voice. For example: you want to sound like Lady Gaga, Morgan Freeman, Oprah Winfrey, Jack Sparrow...
Step 2: Type what they say in the Phrase textbox. Then save it!
Step 3:  Start recording your voice with a high quality microphone. (Make sure your voice is loud and clear enough to be recognized by the microphone)
Step 4: Compare the similarity between these 2 voices and see if you need to make further adjustments to get the best output voice.
If you want to take an experience using this Comparator module, download it at http://www.audio4fun.com/voice-over.htm