Audio4fun has just released AV Audio Morpher - a tiny yet professional tool dedicated to various audio editing tasks.  With the colossal library of hundreds of effects categorized in 2 groups: Ready-to-use and Customizable, AV Audio Morpher help user's morphing process much easier and friendlier.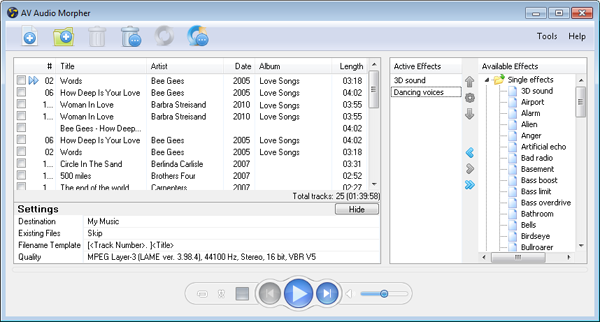 AV Audio Morpher main features:
- Intuitive interface.
- Fast processing speed and high quality output.
- Support batch file morphing.
- Define template for output file names and make your music library much easier to organize.
- Convert various audio files or encoding formats.
- Be able to sort and group your input files by different categories such as Date - Album or Artist - Date - Album.
- Work well with other advanced programs like Voice Changer Software or AV Audio & Sound Recorder to morph recorded voice.
- ...
The best part of AV Audio Morpher is that it is available for FREE DOWNLOAD. With AV Audio Morpher, morphing is just one click away!