INTRODUCTION
In this tutorial, we will guide you on how to talk like the Morgan Freeman with Voice Morpher, Equalizer, and Effects of the Voice Changer Software Diamond 7.0 (VCSD7)
» Who is Morgan Freeman? Morgan Freeman is an American actor, film director, and narrator. Freeman has received Academy Award nominations for his performances in Street Smart, Driving Miss Daisy, The Shawshank Redemption and Invictus and won in 2005 for Million Dollar Baby.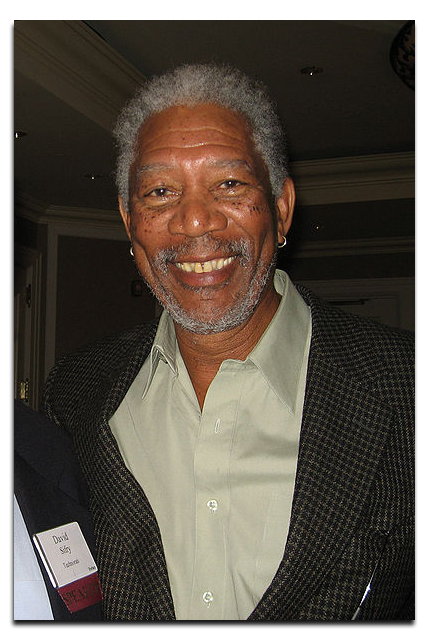 Step 1: Basic voice changing with the Pitch and Timbre graph 
On the main panel, click on the On/Off (1) button to turn on Voice Morpher panel.
Move the cursor (2) on the Pitch-Timbre graph (also called the Morpher graph) to change the voice.
Remember that move the cursor up will make your voice younger; move it left for boy's voice and right for girl's voice.
Because each voice is characterized on pitch and timbre, it is recommended that you should try more or less before decide which pitch and timbre combination produces the best result.
For me, Pitch 72% and Timbre 109% is perfect for Freeman's voice, so I leave the cursor there.
Note:
It is recommended that you should turn on the Duplex button (3) to test how your voice sounds like.
The Advanced Tune is a special control for adjusting voice timbre. Move the Advanced Tune slider (4) left (or right) to decrease (or increase) the value.
Step 2: Enhance output quality with Equalizer and Effects 
Expand the Advanced (1) panel and go to the Equalizer tab.
Click on the On/Off (2) button to turn the Equalizer on
Make change to each slider at a time while speaking into the mircrophone to pre-listen to how your voice sounds like.
The below parameters are recommended (3).
Switch to Effects tab (4).
Click on the On/Off (5) button to turn the Effects on
Check on these two following effects to activate them: Radio (Band Pass Filter) and Bass Cut (Band Reject Filter).
Now your changed voice is now ready to use in voice chatting via VoIP application such as Skype, Yahoo!Messenger or Facebook....
» For instant use, you can download the Morgan Freeman voice preset from here.
» To learn how to use the preset of voice changer software, click here